Discografia
Marco Giaccaria solista
A New Dawn (2021)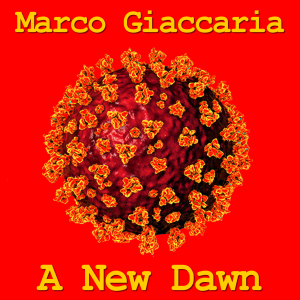 1. A New Dawn (Marco Giaccaria) 5:16
Just another divertissement to celebrate my 62nd birthday.
During this pandemic period, I'm waiting for a new dawn: I hope we have all learned to respect the planet ... because there is no planet B!
January the 21th, 2021. Enjoy!
---
no, non chiamarmi giovane (2020)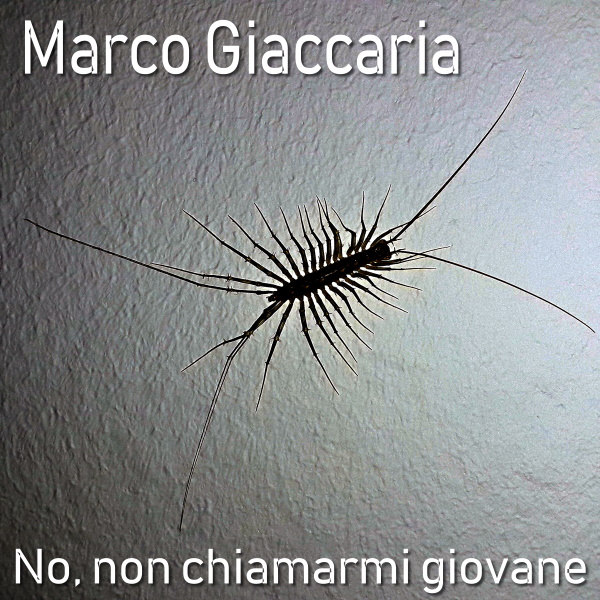 1. No, non chiamarmi giovane (Marco Giaccaria) 5:11
A composition from some years ago (1983), reorchestrated for singing, flute, violin, marimba and piano. The lyrics are a poem by Olindo Guerrini (published under the pseudonym Lorenzo Stecchetti). Italian poet and writer (1845 - 1916).
This song is published to celebrate my 61st birthday.
January the 21th, 2020. Enjoy!
---
MoKoMoKo (2019)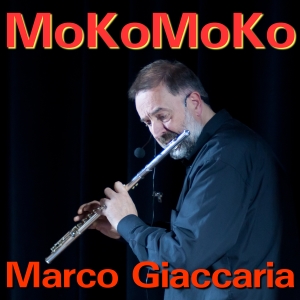 1. MoKoMoKo (Marco Giaccaria) 4:50
Just a divertissement to celebrate my 60th birthday.
In this song I've played all the instruments I have learned in these years (almost all of them, at least one representing each family of instruments).
So here are flute, piccolo, tin whistle, alabaster flute, bouzouki, violin, mandola, classical guitar, electric guitar, electric violin, piano, bass recorder, sequenced orchestra, percussions and sampled instruments.
January the 21th, 2019. Enjoy!
---
'Round Midnight (2018)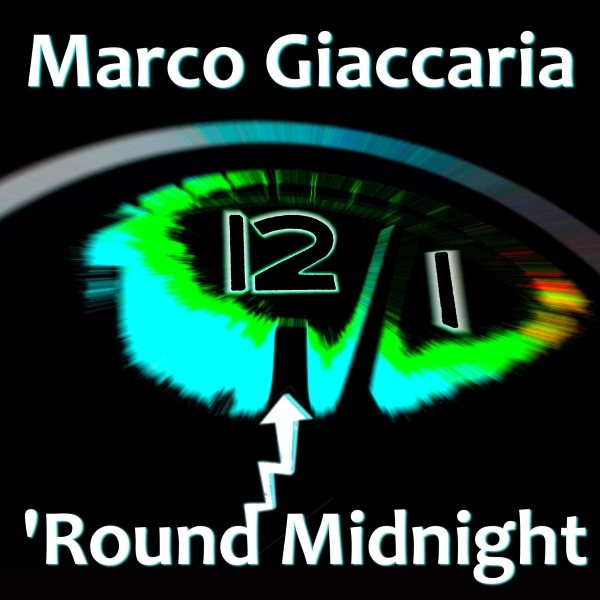 1. The Ambience at Midnight (Marco Giaccaria) 1:18
2. 'Round Midnight (Bernard D. Hanighen / Thelonious Monk / Charles "Cootie" Williams) 6:56
3. Gaelic Midnight Medley (traditional) 7:33
4. La Notte - flute concert in G minor, Op.10, No.2, RV 439 (Antonio Vivaldi) 10:00
5. Come, Sable Night - madrigal (John Ward) 5:16
6. Midnight on the Water (Luke Thomasson) 4:56
7. Black Night (John Lord, Ritchie Blackmore, Ian Gillan, Ian Paice, Roger Glover) 3:49
8. Chandrakauns (raag's alap) 4:40
9. A Nakht in Gan Eden (traditional) 4:13
10. Black Night (A Slight Return) (arrangiamento libero di Marco Giaccaria) 3:58
11. Bona Nox - 4 parts canon (Wolfgang Amadeus Mozart) 4:09
12. Waiting for One O'Clock (Marco Giaccaria) 4:20
La registrazione ambientale dell'ora tra mezzanotte e l'una, "disturbata" da dodici brani musicali.
Alcune cover, alcune tradizionali e una composizione originale; tutti arrangiati e suonati su flauti, violini, chitarre, tastiere e campionatore da solo.
Guarda i titoli per capire cosa intendo... Ascoltalo con la cuffia e le luci spente da mezzanotte in avanti. ;-)
All music arranged or composed, played, recorded, mixed and edited by Marco Giaccaria between 2012 and 2018.
Marco Giaccaria: flutes, violin, tin & low whistles, bouzouki, mandola, classical guitar, electric guitar, electric bass, keyboards, percussions, sampled instruments.
---
BEANS - Border Music from the Woods of the Moon (2016)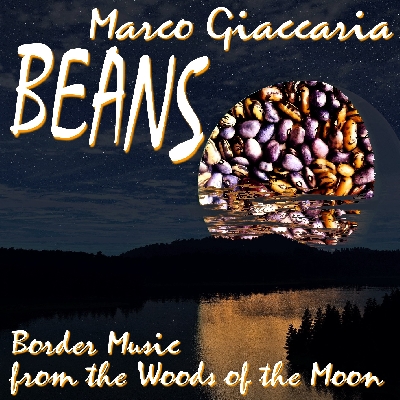 Border Music from the Woods of the Moon:
1. The Maquis, Were all it Began 1:41
2. Nineteeneightysix 1:47
3. Nineteeneightysix, the Second theme 2:33
4. My Best Wishes 2:07
5. Do not Shake that Mushroom 8:32
6. Interludio Amletico 0:36
7. Apples on the Moon 2:38
8. Craters and Holes 2:03
9. I will Never Be Alone 5:08
BEANS:
10. Beans for all 4:50
11. Ceci est la Lune - I 1:07
12. non voglio la luna 1:56
13. Ceci est la Lune - II 1:22
14. Soy como las piedras 3:26
All music composed, arranged, played, recorded, mixed and edited by Marco Giaccaria between 1986 and 2016.
Marco Giaccaria: flutes, violin, tin & low whistles, bouzouki, mandola, classical guitar, electric guitar, electric bass, keyboards, percussions, sampled instruments.
FEATURING: Ensemble dei Suoni Residui (oboe, clarinet, french horn, bassoon and drums).
Another mixture of Classical music, Rock and Jazz with ethnic flavours...
It's hard to explain by words, but it's very clear when you're listening to it. All original compositions!
This work is made by two basic ideas: the first is "Border Music from the Woods of the Moon", a suite in 9 movements, in its "typical" alternating (in my own style)between Rock, Jazz, ethnic music and classical music... In my imagination, the woods of the Moon are a strange landscape between craters and lunar seas... All mixed together as my compositions.
The second suite is BEANS: all the compositions are totally improvised, except the themes from Carrickfergus and Summer is Icumen.
[If you like to have the complete artwork to print, feel free to visit the contact's page to send your request; I'll send you soon the link to download it.]
---
When Irish Music... (2014)
Arie e danze irlandesi e scozzesi: le mie preferite da molti anni.










---
Nomad (2013)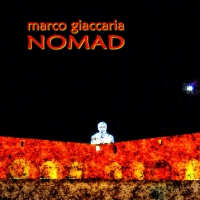 Fase # 1: elaborazione della prima musica frattale (14 novembre 2010).
Fase # 2: composizione di Nomad, per oppio sestetto con batteria e chitarra ritmica (tra febbraio 2011 e aprile 2012).
Fase # 3: elaborazione della seconda musica frattale (21 giugno 2012).
Fase # 4: registrazione di tutte le parti strumentali (Novembre, 2012).
Fase # 5: missaggio e montaggio del master finale (tra febbraio e giugno 2013).
[Aggiunta]: la composizione viene riscritta come canone a 4 parti, per sintetizzatore in modulazione di frequenza (maggio 2013).
Fase # 6: pubblicazione su cdbaby.com come singolo (la composizione senza frattali) e su mininova.org come versione completa (21 settembre 2013).
Tutta la musica composta, eseguita, arrangiato, registrato, mixato e curato da Marco Giaccaria (senza improvvisazione ... questa volta!).
Strumenti: 3 flauti a becco diritti (soprano, contralto e tenore), 2 flauti, violino e violino elettrico, mandola e bouzouki, chitarre elettriche solista e ritmica, 2 bassi elettrici campionati; FM sintetizzatore in modulazione di frequenza; percussioni e batteria campionati.
Nomad è una composizione polifonica a sei voci; il sestetto acustico è un'ottava sopra a quello elettrico: non suonano sempre insieme (è più simile a un Hoquetus).
Si tratta, in ogni caso, di una composizione di rock elettronico strumentale con una armonia modale moderna.
La versione completa è costituito da un alternanza tra frammenti di composizione e frattali, tutto sovrapposto al canone.
Mi piace il risultato finale: suona antico e moderno allo stesso tempo.
English version:
Phase #1: elaboration of the first fractal music (14th of november, 2010).
Phase #2: composition of Nomad, for double sextet with drums and rythm guitar (between february 2011 and april 2012).
Phase #3: elaboration of the second fractal music (21st of june, 2012).
Phase #4: recording of all instrumental parts (november, 2012).
Phase #5: mixing and editing of the final master (between february and june, 2013).
[Addition]: the composition is rewritten as canon in 4 parts, for FM synthesizer (may, 2013).
Phase #6: published on cdbaby.com as single (the composition without fractals) and on mininova.org as EP version (21st of september, 2013).
All music composed, performed, arranged, recorded, mixed and edited by Marco Giaccaria (no improvisation... this time!).
Instruments: 3 recorders (soprano, alto and tenor); 2 flutes; violin and electric violin; mandola and bouzouki; lead and rythm electric guitars; 2 sampled electric basses; FM synthesizer; sampled percussion and drums.
Nomad is a six-voice poliphonic composition; the acoustic sextet is an octave higher than the electric one: they don't play always together (it's more similar to an Hoquetus).
Anyway, it's an instrumental electronic Rock composition with a modern modal harmony.
The complete version consists of an alternance between fragments of composition and fractals, all overlaid on the canon.
I love the final result: it sounds ancient and modern at the same time.
---
Solo un flauto, ma non solo. (2012)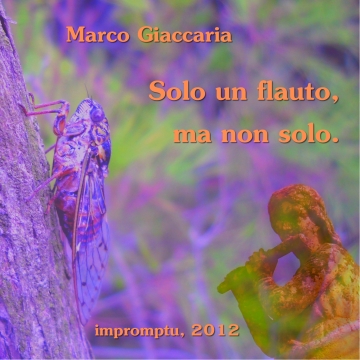 Questo lavoro contiene improvvisazioni registrate in quattro luoghi diversi: Ondo, Taverno, Kelo e Lesivejo; il titolo di ognuna suggerisce il tipo di ambiente dove è avvenuta l'improvvisazione. Sono tutte presentate in ordine cronologico, dalla prima del 18 aprile 2012 all'ultima dell'1 dicembre.
Le improvvisazioni dalla numero 1 alla 18 nascono da una breve idea melodica; solo l'inizio di Ondo XI (Sharadhun) e quello di Lesivejo I (Melodia) sono stati composti prima.
Nessun taglio o montaggio in digitale: le ascolterete integralmente così come sono uscite.
Ho usato esclusivamente il mio vecchio flauto, un Muramatsu del 1980.
Il mare, le cicale, gli uccelli notturni e diurni, i grilli, i cani, i galli, la pioggia e tutti i rumori che si ascoltano sono stati registrati nello stesso periodo delle improvvisazioni.
Le foto sono state scattate nei luoghi delle registrazioni.
English version:
This work contains improvisations recorded in four different places: Ondo, Taverno, Kelo and Lesivejo; each one of their titles suggests the type of environment where the improvisation happened. They are all presented in chronological order: from the first, of April 18, 2012, to the last of December 1.
The improvisations from number 1 to 18 are born from a short melodic idea; just the beginnings of Ondo XI (Sharadhun) and Lesivejo I (Melody) were composed in advance.
No cutting or digital editing: you will listen in full as they have come.
I played only my old flute, a Muramatsu of 1980.
The sea, cicadas, diurnal and nocturnal birds, crickets, dogs, roosters, the rain and all the sounds that you hear were recorded in the same period of the improvisations.
The photos were taken in the sites of recordings.
---
Musica Mantecata
Volume 1: Sussurro e Fragore - Volume 2: Musica Mantecata - Volume 3: Six Solos for Strings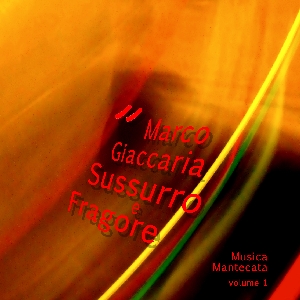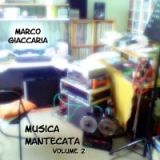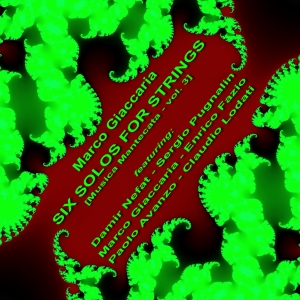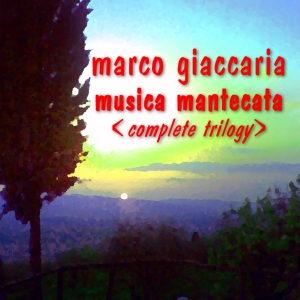 Trilogia sviluppata tra il 2005 e il 2010; i primi due volumi sono eseguiti esclusivamente da Marco Giaccaria, mentre nel terzo volume sono presenti altri cinque solisti oltre a Marco Giaccaria (Damir Nefat, Sergio Pugnalin, Enrico Fazio, Paolo Avanzo e Claudio Lodati).
Tutti e tre i volumi sono liberamente scaribabili dal portale Archive.org.
---
---
Gruppi con Marco Giaccaria
---
Collaborazioni
Maja Elliott, Andreina Polo, Paolo Avanzo, Maurizio Brunod, Paolo Ricca, Elisa Chiaraviglio, Alessandro Monti Unfolk, Franco Olivero, Babemalà, Fancyfluid, Francesco Chiummento.