Skip Healy & Éire Nua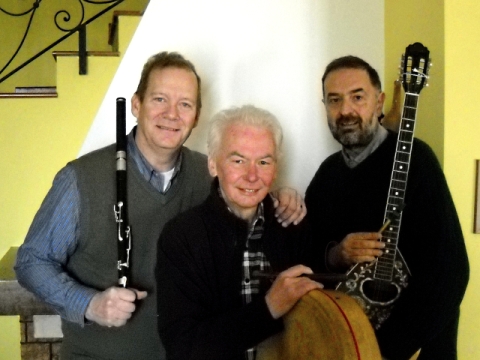 I came to Europe (Switzerland) the first time in 1982 to perform a series of concerts with the "Ancient Mariners Fife and Drum Corps". It had been a dream of mine to see the places I had long heard of and to perform for people in various foreign lands. Since then I have spent more and more time in Switzerland and now basically live there.
My wish is to form a new band, the basic form being traditional Celtic music, but not quite played in the usual way. Several years ago, I began corresponding with an Italian musician from the Torino area (in the Piedmont region) named Marco Giaccaria. He is well versed in trad music having played it now for over 35 years.
A multi-instrumentalist with a background in music composition, Marco has played for the past 25 years with Dublin born bodhran player Joe "Bongo" Quinn and suggested him without hesitation.
And so it has started. "Skip Healy & Éire Nua" is rooted in the music of the Celts, but with a mix of "international spices" that only a Dubliner, a Piedmontese and a New England Yank could put together. A new taste for the traditional music palate, sweet and spicy always leaving you wanting another bite...
We hope you enjoy the music of "Skip Healy & Éire Nua".
Skip Healy
Skip Healy & Éire Nua - demo 2012
Skip Healy & Éire Nua: The Rights of Man (3:15)
Skip Healy & Éire Nua: The Kerry Reel (1:54)
Skip Healy & Éire Nua: Chuaigh Me Na Rosann - Jigs (4:33)
Skip Healy & Éire Nua: Centennial March (3:33)